Background
Eye Movement Desensitization and Reprocessing (EMDR) therapy is gaining interest for the treatment of PTSD (Post Traumatic Stress Disorder). It is used by private therapists and in Veterans Hospitals. The client already had a successful line of products used widely throughout the world, but wanted to upgrade the look and functionality. Though they knew they wanted a change, the client also wanted to better understand what their clients wanted in a product.
To find out what therapists were looking for in a product, the client wanted to do a focus group study which I created survey questions for and facilitated. The survey involved both practical cost questions and product feature questions.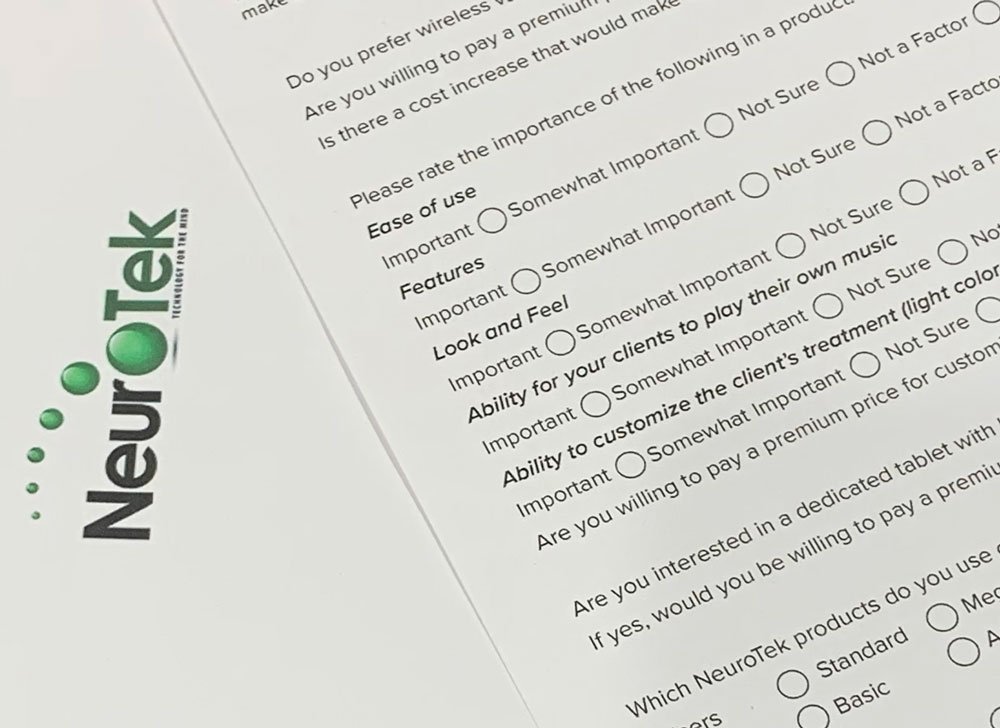 Design and Testing
At the focus group, the therapists were shown prototypes of the preliminary designs and asked the assess them for daily use in their practice. It was very informative and I, as a designer, learned quite a bit. Some shapes are not acceptable because they are triggers for trauma victims. With that knowldge, I went back and redesigned the pulsers (handheld tactile stimulation) with ergonomics always at the forefront of my design thinking.
As a gamer myself, I know the strain of holding an uncomfortable controller. The device needed to fit a wide range of hand sizes and deliver vibration comfortably. I printed the 3D design files to test ergonomics. The position when held needed to feel natural and there needed to be a place to rest the thumb. I did a lot of ergonomics tests to make sure I was achieving this goal.
User Interface
The client's original product had no modern digital user interface. The products were controlled by dials and buttons with LEDS with the only digital display being numbers. I designed the in-device user interface for four different levels of device. A high-end, wireless and Bluetooth®, touch screen device; a mid-range, wireless and Bluetooth® capable device with button input; an introductory device with wireless capability and button inputs; and a wired remote.
The client wanted to introduce new features as well that their customers had been requesting such as profile creation, the ability to pause and resume, and restarting the session counter to zero.
In the video below, the handheld devices are pulsers that provide tactile stimulation while the headsets provide auditory stimulation.
Marketing Materials
The clients requested that I do their product sales sheets and Quick Start Guides in addition to the UI and Industrial Design.
They had not previously had any sales sheets for their products. I used the circles of their logo as a design element and used 3D renders from Keyshot for the product images.